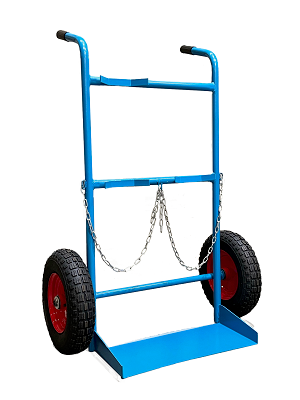 Collection:
Gas Cylinder Trolley
Manufactured in full conformance with AS 4332-2004, our range of gas cylinder trolleys will help you minimise risk and increase efficiency in your workplace. Our gas bottle trolleys are designed to hold different sizes of high-pressure industrial cylinders, from D size acetylene to T size LPG.  
Storemasta gas cylinder trolleys are constructed from steel, making them a lightweight yet durable option. Our trolleys are finished with a corrosion resistant high build powder coat which offers protection against abrasion and UV damage.  
Manufactured with pneumatic wheels, our trolley will keep your gas bottles moving without the worry of punctures and downtime.  
When your trolley is in use, use the chain restraint around your cylinders to stop them falling over or slipping.  
Storemasta gas cylinder trolleys are proudly designed and fabricated in our Australian manufacturing facility. 
Ted was very responsive throughout the purchasing process. Being in the R&D lab business, we've got plenty of DG's that require storage in great quantities, Storemasta offers the highest of quality to ensure compliance and safety.

Arxada

It has been a pleasure working with Braden. We were seeking a cabinet to store lithium-ion batteries, and Braden offered us the best option in a quick and efficient manner.

Australian Government Defence

Excellent team that is spot-on with identifying our needs! Strongly recommend Storemasta.

Big River Pork

Looked at 5 other companies and Storemasta never failed to impress me. It truly offered the best quality out of all I've looked at.

Blue Lion Moving Services

Extremely happy with Storemasta! A great experience dealing with Ally, who ensured the prompt delivery of our gas cylinder trolley. Now we're confident that the transport of gas cylinders will be so much easier and safer.

Burnet Institute

Great service throughout! Such a great team!

CT – Catholic Education

Good price, helpful staff and excellent quality cabinets, just what we needed.

Deakin University

Storemasta are truly experts in what they do! They know the ins and outs of all their products, making the purchase process very quick.

Powerline

Melissa was extremely helpful and followed up on how the new equipment is functioning, which I might add is an awesome bit of gear.

Snowy Hydro

The entire process in search of what we needed was so easy to navigate! My questions were answered so promptly and clearly, making the entire purchase process seamless.

Winning Group